We'll get you to the church on time!
Your wedding day will probably be one of the most important days of your life and of course you want it to be a memorable one; not just for you and your partner, but also for your families and friends. There's no better way for your guests to travel than by bus!  Our big red double deck bus is just the ticket!
Sometimes wedding guests are not local and have travelled from afar to attend your special day.  Make life easy for your wedding party by taking away the worry of parking charges, bus lanes or the possibility of getting lost.
Let us take care of moving your group from A to B (and sometimes B to C) ensuring that whether it's a single pickup or multiple locations, you'll have one less thing to worry about.
Whatever your taste and whatever your requirements………
Sit back, relax, we've done it all before!
Our 70 seat package rates for 2017 are:
Bronze
£475
Single journey:
From hotels or homes to combined Wedding service and reception or
From Wedding service to reception only (approx 2 hour hire).
(A to B only)
Silver
£575
Two journeys:
First to the Wedding service or Church then after the service to the reception venue.
(A to B then B to C)
Gold
£735
As above, plus:
Additional early evening journey to reception venue.
(A to B then B to C plus D to C)
Platinum
£895
As above:
Additional late night return journey to transport guests back to hotels after evening reception.
(A to B then B to C plus D to C and C to A)
We also offer the following services to add an extra special touch of class…
Souvenir Bus Tickets
These souvenir tickets are a lovely keepsake. Simply choose your wording.
£40 for a full bus.
Personalised Destination Blind
Have your own personalised destination blind in the front of the bus and yours to keep.
£50 (front only) or £75 (front and rear).
Champagne Reception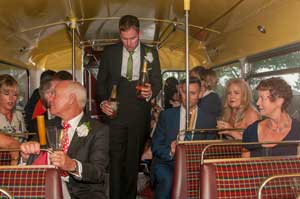 Why not have some bubbles on your journey! You simply order your champagne/prosecco/cava and have it delivered to our offices.
We chill it in the fridge and bring on the day in a coolbox including the plastic champagne flutes. Water/flavoured water is the non-alcohol alternative. We help serve your guests along with a best man/usher.
£50 for a full bus or £25 for half a bus.
Internal Bus Decorations
Have your bus decorated for your Wedding day with white bows, streamers and silk flowers on each pole.
£50 for a full bus.
Book early to avoid disappointment!